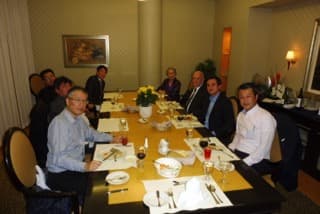 新に選出された理事は10月13日にウエストバンクーバーのAmicaに集まり、新しい事業年度を開始しました。
本年度に新しく会長として就任されたアダムス・ヒロミさんと新任理事は、元副会長の堀田様を招待し、商工会に過去10年間多大なるボランティア活動の功績を称えました。
その日は楽しい会食を通して充実な時間を過ごすことができました。
今後のJC-COCを益々盛り上げる為に皆様の御尽力を期待しながら、もうすでにこの小さなものをも支えてご指導いただいていることを心から感謝もうしあげます。
出席者:
ヒロミ・アダムス – 新しいJCCOC会長&ホスト
堀田直人 – 過去10年間の元副会長
取締役:
ケーシー若林
藤井ライアン
ゲイリー・マットン
Tosh Tatezawa
トシ・東
マットン・裕司
渡邉美紀子 – 行政アシスタント
松山正義(欠席)
報告
Casey Wakabayashi
The newly elected Directors and members gathered at Amica in West Vancouver on October 13th to kick-off a new business year.
The opportunity provided for host & newly elected President Hiromi Adams and the new board to extend deep appreciation to former
Vice-President & Director Naoto Horita for his past 10 years of tireless dedication and volunteer efforts.
>>>Shown here is host Hiromi Adams newly elected President, making a presentation to Mr. Horita.- (depending on photo) <<<<
All members thoroughly enjoyed the casual evening over great food and warm conversation and pledged to work closely together.
Attendees:
Hiromi Adams –New JCCOC President & host
Naoto Horita – Former Director for the past 10 years
Directors:
Casey Wakabayashi
Ryan Fujii
Gary Matson
Tosh Tatezawa
Toshi Higashi
Yuji Matson
Masayoshi Matsuyama (unable to attend)
Mikiko Watanabe – Administrative Assistant
日本・カナダ商工会議所事務局